Germany Prods Liechtenstein on Fighting Fraud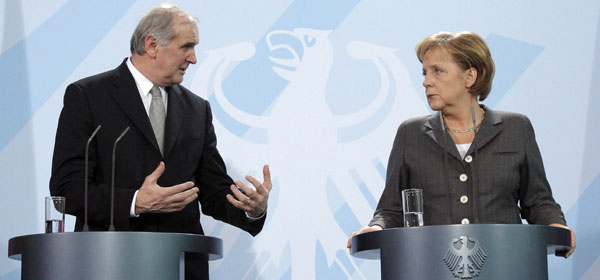 FRANKFURT — Having turned a spotlight on what it calls Liechtenstein's brisk business in abetting tax evasion, Germany has raised the prospect of retaliation in other areas unless the principality cooperates more on tax policy.
Chancellor Angela Merkel of Germany told her visiting counterpart from Liechtenstein, Prime Minister Otmar Hasler, on Wednesday that he needed to move quickly to negotiate a new antifraud agreement with the European Union.
Ms. Merkel noted that Liechtenstein was scheduled to sign an agreement next Thursday that would allow it to dismantle its border controls with Austria. But that deal is still subject to approval by other European Parliaments, including the one in Berlin.
Nailing down an antifraud deal with Liechtenstein, she hinted, would head off any potential calls to delay ratification of the border agreement.
"I hope that we don't get in a situation where we're dealing with ultimatums, rather that we do our work quickly," Ms. Merkel said in a joint news conference with Mr. Hasler.
Liechtenstein has sharply criticized Germany's conduct in its tax-evasion investigation, which unfolded after German intelligence agents paid for stolen data from one of the principality's banks. Police officers have since conducted raids across Germany in a broad effort to uncover tax cheats.
The government of Liechtenstein detailed plans on Wednesday to strengthen privacy guarantees for the investment vehicles that are at the center of the investigation.
The proposal is aimed at clarifying the regulations governing Liechtenstein-based foundations, which are similar to trusts in the English-speaking world. Foundations established for charitable purposes would be separated from those set up by families as a way to preserve inherited fortunes, the government said.
But Liechtenstein refused to budge on the one feature that, according to Germany, enables wealthy Germans to use Liechtenstein foundations to avoid paying taxes: a refusal to share information with other governments on who owns and benefits from these foundations.
On Wednesday, officials on both sides of the tax dispute sought to smooth the sudden ripples in their relationship.
Mr. Hasler, making the first official visit of a Liechtenstein head of government to Germany in 16 years, said his country was interested in staying on friendly terms with Germany.
"We have good relations with one another and are interested in keeping it that way," he said.
The tax-evasion investigation, which included a raid last week on the home of the head of Deutsche Post, took an odd turn on Wednesday when an official responsible for ensuring the privacy of personal data left his job suddenly.
The official, Karl-Michael Betzl, who functions as the top consumer advocate for data protection in the southern state of Bavaria, stepped down temporarily after the police searched his home and office on Tuesday. According to German press reports, Mr. Betzl's wife works for BND, the intelligence service that delivered the incriminating bank data to prosecutors.
The German government now believes that a mixture of domestic and international conditions has made the time right for a broader offensive against tax havens, a German official said.
The official, who requested anonymity because the effort was just getting under way, said it would include initial discussions among European finance ministers at a meeting early next month and at the Organization for Economic Cooperation and Development, the lead international organization for tax policy.
Germany is also hoping to interest the next American administration in further steps to combat tax havens, the official said.
Germany appears to be relying on negative publicity to pressure Liechtenstein to curb its role in tax evasion, several tax policy analysts said.
The principality has passed tough legislation on money laundering, to fight terrorist financing, and on recovering defrauded assets from Liechtenstein banks, said Mark Pieth, a professor of criminology at the University of Basel. But because the principle of secrecy underpins much of its financial sector, the country has deflected demands for greater openness.
A confidential German finance ministry briefing paper supplied to The New York Times by a ministry official outlines several unilateral measures that it says would be "worth considering" against Liechtenstein. Those include eliminating tax deductions for business expenses incurred in Liechtenstein and imposing fees on money transfers to the principality, according to the paper.
Several experts said Germany could also impose a new legal requirement, known as reversing the burden of proof, on its own citizens who do business with Liechtenstein. Under that approach, Germans who send money there would have to supply a clear reason, like payment for a house.
"If you can't prove some sort of real-economy reason why you have put money into Liechtenstein, it is treated as tax evasion upfront," said Lorenz Jarass, a professor of business administration at the University of Applied Sciences at Wiesbaden.
Liechtenstein has been negotiating the antifraud agreement with the European Union since last year, but it has resisted efforts to tie that to joining the open border system, called the Schengen Pact.
Liechtenstein, which already has open borders with Switzerland, hopes to dismantle controls with the only other country it borders, Austria. Neither Liechtenstein nor Switzerland is a member of the European Union, but Austria is.